The Trouble With Grass...
The Statue taxi is good sized ferry with two levels that shows up every 20 minutes. They don't pack the ferries very full, but I'd say there are around 100 people allowed aboard. That means New York is sending about 3,000 visitors to the Statue on any given Monday. New Jersey probably sends about half. The monument expects 5 million tourists a year, so I'm guessing we were there on a slow day.
Look at this picture: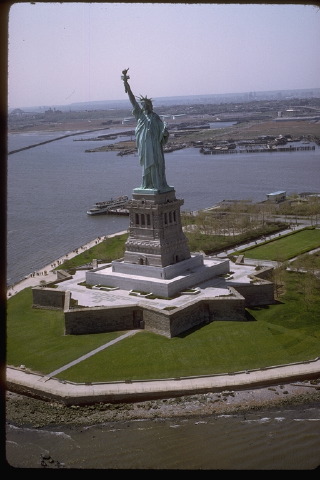 You see that nice pristine lawn? How do they keep that lawn so nice with thousands of people tramping through there every day?
Bird Shit.
The lawn is covered in so much crap you can't walk on the grass. Rain and weather keep the 'white' from showing up in the aerial shots, but it is there. Those birds are doing their part to make our monuments beautiful.
At least from a distance.