The Rising Sea's First Victim
The domain registry system is a strange thing. One of its most peculiar aspects is the .tv country code. The top level domain has obvious application for television, and the country of Tuvalu has made good money from it.
However, that is all about to change...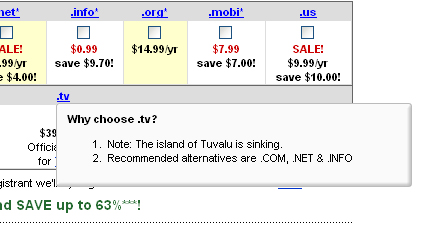 Thanks to global warming, the sea level is rising, and Tuvalu is a scant 4.5 meters in elevation at its highest point. The IPCC predicts that over the next 90 years, the ocean will rise 40 cm. 1.3 ft may not seem like a lot, but it's enough to destroy water tables, crops, and drinking water for the entire country.
Tuvalu will literally drown in our lifetime.